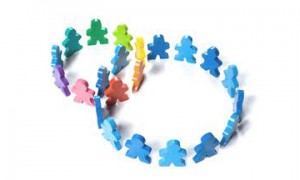 In our last SupportEDGE article we noted that, barring active effort on your part to build an engagement culture, only a third of your entire workforce is likely to be engaged.  That raises the question of just who they are and why they might be engaged.  The same studies that affirm the 30% rule also suggest  there's a strong correlation between high engagement levels and factors like age, role, level and tenure of the employee.
Let's start with age.  Employees who predate the Generation Y population (a.k.a., Millennials) tend to be more highly engaged than employees that fall within that population.  Now this doesn't at all suggest that the latter has a lower energy level when working, or can't get things done in an efficient way.  It just means that generally they don't tend to think like owners of their work world, nor do they tend to use discretionary time and effort to get the job done.
The second factor that plays into this is the role of the employee.  Employees that are involved in the creation of and/or the direct execution of strategy tend to be more highly engaged than other employees.  The same is true of employees who are at the front lines of customer-relationship management and deal with customers directly.
The third factor is the level of the employee.  Employees who are in positions of authority and have been given ownership of their world tend to be more highly engaged than employees who are not in these positions.
LIKE WHAT YOU SEE? Just complete the subscription form below and we'll send each issue of the Support EDGE to your inbox for free! Instructional videos, audio clips, articles, e-books, and other resources delivered directly to your Inbox each issue! [mailpress]
And finally, the fourth factor that has a strong correlation to engagement is the tenure of the employee.  Employees who have been with the company seven or more years tend to have higher engagement levels than employees who have been with the company a shorter amount of time.
Now, there's not a whole lot we can do about the age of the employee or the employee's tenure. We can't change either of those.  However, we may be able to make application for all employees based on the prin
ciples of role and level.  What's important about the level factor is probably not so much the official title, as it is what typically accompanies that title; namely, things like autonomy and ownership for their world.   And what's important about the role is probably not so much that it's tied to strategy or customer-relationship management as that those in those roles tend to have a clearer line-of-sight to the outcomes of their daily activities.
Now we'll see how this is validated when we get into the drivers of engagement later in this series.  But that's it for this edition of the Support EDGE. Until next time, be sure all your development initiatives are performance-driven and outcomes-based.
~ES
Eric Svendsen, Ph.D., is principal and lead consultant of SCInc., a learning and development consulting company. Eric has over 20 years experience in creating and executing results-oriented, outcomes-based learning and development initiatives aligned to corporate goals. He specializes in leadership development and coaching, and leading organizational culture-change initiatives around customer support and safety leadership. Eric was personally involved in the development of certification standards, performance standards, exam validation, competency models and training for the customer-support and technical-support industry, and was instrumental in the creation of the only performance-based certification in that industry.