CERTIFIED
Tier-1 Support Specialist
(support techs, specialists & help desk analysts)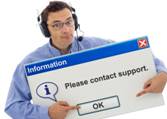 Enroll Now for Free! (see details below)
"This is my first time doing an online course , and for me at least there's always a weariness about the quality and substance of any online course.  But with this course I feel that I'm getting good information from a knowledgeable, competent source!" –T1SS student
Course Description: The ever-changing world of a high-tech customer-support environment places ever-increasing demands on support specialists and help desk analysts to meet the technical and business needs of the customer while providing unsurpassed customer care. Balancing these responsibilities can be challenging, but Tier-1 Support Specialist training will prepare you to meet these challenges and others.
Who Should Enroll? This course is the pathway for attaining SPC Tier-1 Support Specialist (T1SS) Certification and is recommended for front-line support techs, support specialists and help desk analysts and professional who want to develop their knowledge and skills for delivering world-class customer and technical support.
Class Fee: $995 USD
(priced at $1,595 at many universities and colleges)
Start This Class for Free!
Just visit our online university, click the Sign-up button in the green box, and enter NYBK-JJDB as the access code.  Then enter your enrollment details to complete the registration.  That's it!  You are now enrolled in the live class.  It's that simple!  This is not a demo. You will have full access to the course, including course content, media resources, assignment submission, instructor interaction, unit quizzes, social forums, and post-unit performance challenges for a period of 10 days.  The enrollment will automatically expire after 10 days, so if you would like to continue with a full registration please make arrangements with the instructor.
Or
View our Demo!
If you would just like to log-in to see the look and feel of the class, you may use our demo login below.  This will allow you to explore one unit of the class.  To view the demo, use the following login credentials:
user: t1ss-demo
password: t1ss-demo
Sign up for our SupportEDGE Newsletter [mailpress]