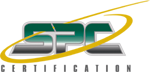 SPC stands for Support Performance Certification. You are probably already familiar with "knowledge-based" certifications in the industry. You take a course, you memorize key points, you take the exam, and upon passing it you are awarded certification. This type of certification allows someone to be fully "certified" who may be very good at memorizing bullet points but who otherwise has little or no real-world experience. Knowledge development is a necessary first step, but it is never an end in itself. It must be supplemented with skills development and performance assessments before it can be validated.
SPC (Support Performance Certification) is just what its name implies—performance-based. SPC recognizes required knowledge acquisition by awarding knowledge certification to those who complete the knowledge requirements and pass the qualifying exam, but full certification is awarded only upon completion of the Performance-Outcomes Assignment, which in turn is based on a competency model specially designed for each certification track. SPC is the ONLY performance-based certification in the industry and is offered through universities, colleges and technical schools around the world.
Certification Offerings
Start any class for free! (see details below)
Certified Customer-Support Agent
CCSA – Certified Customer-Support Agent certification is targeted to individuals wishing to qualify to work in a call center or contact center environment. This certification focuses on best practices for handling customer requests. We recommend this class be a requirement of all customer-service agents within 30 days of being on the job. >>Learn more about CCSA certification
Certified Tier-1 Support Specialist
CT1SS - Certified Tier-1 Support Specialist certification is targeted to IT help-desk, support-desk, and service-desk specialists. This certification combines best practices for customer-relationship management training with best practices for problem-solving and troubleshooting training. >>Learn more about CT1SS certification
Certified Support-Operations Manager
CSOM - Certified Support-Operations Manager certification is targeted to supervisors, team leads, and managers in the service and support industry. This certification focuses on an understanding of building a business infrastructure, building your team, building the technology infrastructure, and on other managerial processes such as using metrics, determining staff scheduling, and understanding leadership and motivation factors. >>Learn more about CSOM certification
View a sample of our Tier-1 Support Specialist certification class:

All programs are available in an onsite/instructor-led format and an online/on-demand format. You can receive more information on all of certification programs by calling us toll-free at 877-916-1510, or in the Denver Metro area at 303-278-8610! Or email us at info @ scinc . com.
Start a Class for Free!
Just visit our online university, click the Sign-up button in the green box, and enter NYBK-JJDB as the access code.  Then enter your enrollment details to complete the registration.  That's it!  You are now enrolled in the live Tier-1 Support Specialist class.  It's that simple!  This is not a demo. You will have full access to the course, including course content, media resources, assignment submission, instructor interaction, unit quizzes, social forums, and post-unit performance challenges for a period of 14 days.  The enrollment will automatically expire after 14 days, so if you would like to continue with a full registration please make arrangements with the instructor.
Or

View the Demo!
To view a demo of our online/on-demand versions of these classes, simply log in below using our demo login and password information:
Customer Support Specialist (csa-demo / csa-demo)
Tier-1 Support Specialist (t1ss-demo / t1ss-demo)
Support Operations Manager (som-demo / som-demo)
Sign up for our SupportEDGE Newsletter [mailpress]