CERTIFIED
Customer Support Agent
(call-center & contact-center agents)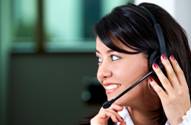 Enroll Now for Free! (see details below)
"I have to admit, I was not at all enthralled with the thought of taking on online class, and have surprised myself (and my supervisor) on how much I am enjoying it. Again, thank you!" –CSA  student
Course Description: In today's increasingly demanding customer-support environment, it is crucial for Customer-Support Agents to recognize and anticipate customer needs, to diffuse difficult customer situations, and to provide unsurpassed customer care through it all. Customer-Support Agent training will prepare you to meet these challenges while giving you confidence to do your job efficiently and effectively.

Who Should Enroll? This course is the pathway for attaining SPC Customer Support Agent (CSA) Certification and is recommended for front-line call-center agents, contact-center agents, and customer-service reps who want to develop their knowledge and skills for delivering world-class customer care in contact-center environment.
Class Fee: $149 USD

Start This Class for Free!
Just email us and provide your name, contact email, company name, and class name to request your free trial enrollment, and we will enroll you in the class of your choice free of charge.  It's that simple!
This is not a demo. You will have full access to the course, including course content, media resources, assignment submission, instructor interaction, unit quizzes, social forums, and post-unit performance challenges through up to 1/4 of the class!
Or
View our Demo!
Log in below as:
user: csa-demo
password: csa-demo
Sign up for our SupportEDGE Newsletter [mailpress]